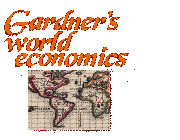 Econ 4338
Economic Systems
of the World
Steve Gardner
Fall 2011


Texts

H. Stephen Gardner, Comparative Economic Systems, manuscript.
Additional required readings may be posted on this web site and/or distributed in class.
A collection of optional supplementary readings, arranged by course topics, may be found here.
This course will be more meaningful if you keep up with international economic events. One good
source is the Online Wall Street Journal, for which Baylor now has a blanket subscription. You
can log in with your Bear-ID and password at https://business.baylor.edu/WSJ.
Recommended References

Objectives
The primary objectives of this course are to:
Explore differences between economic institutions, policy, and performance in countries around the world;

Provide information on the methods used to make economic comparisons across countries -- statistical methods, theoretical methods, and others; and

Encourage analysis and discussion of major developments in the world economy, including the current policy debates in the United States, difficulties with enlargement and monetary unification of the European Union, the continuing economic and social transitions of the former Communist countries, the changing roles of China and India in the world economy, economic development strategies in poor countries, and programs of economic integration in Europe, the Western Hemisphere, and other regions.

Grading

Semester grades will be based on your performance on three examinations, each of which will include a combination of multiple choice and essay questions. Class preparation, participation, and completion of out-of-class assignments will also be taken into account. See other important information under Attendance, below.

If you have a comparative advantage in research and writing, if you are taking this course for some special purpose (honors credit, area studies, etc.), or if you would like to explore a particular topic in depth, you may write an optional research paper and/or give a class presentation of a working paper from this list. In this case, the grade for the course will be spread evenly across the examinations and term paper and/ presentation. If you wish to give a class presentation, you should send me your preferences from the working paper list by September 1. If you wish to write a research paper, turn in a topic statement and a preliminary bibliography by September 15. The finished paper is due November 22. Guidelines for writing the research paper may be found here.

See other important information under Attendance, below.
Classroom Conduct

Generally, classes will begin and conclude in a timely manner. Please make every effort to arrive on time and avoid leaving early. If you must leave early, please tell me before class begins. For more information on this subject, see "Attendance" below.

Please switch off cell phones before class begins.

Please give your full attention during class. Texting, e-mailing, web surfing, newspaper reading, and side conversations are disrespectful and distracting.

Our classes will be more interesting if we have broad and lively discussions. Please participate, but avoid monopolizing the discussion. Respect alternative points of view and help me to "draw out" shy class members, some of whom may be insecure about their fluency in English.

With the exception of bottled water, we are not allowed to have food or drinks in the Cashion classrooms.

For additional information on classroom conduct, see corresponding section of the Student Handbook .

Attendance
In keeping with University and Business School policies, students who miss over 25% of class meetings (in this case, 8 or more absences) will automatically fail the course. On the other hand, three points will be added to your semester average if you have perfect attendance; two points will be added if you have one absence; one point will be added if you have two absences (for the calculation of this extra credit, there are no excused absences). If you arrive late for class, you will be recorded absent unless you have the roll changed before you leave the class.

Tentative Course Schedule
I. Introduction
II. Economic Systems
Sept. 27 -- FIRST EXAMINATION, TEXT CHAPTERS 1-5
III. The Western Hemisphere
IV. Western Europe
October 27 -- SECOND EXAMINATION, TEXT CHAPTERS 6-13
V. Central Eurasia
VI. Asia and Africa
DECEMBER 12 (2:00-4:00PM) -- THIRD EXAMINATION--CHAPTERS 14-21