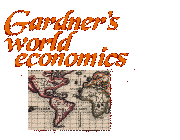 ECO 5338
Seminar on World Economic Systems
Steve Gardner
Spring 2021

Class Time/Location:
TR 2:15-3:15pm
ONLINE Zoom Office Hours:
MWF 2:00-4:00pm
and by appointment.

You can "drop in" during these office hours,
but you may need to spend time in the Zoom waiting room.
You can avoid that by reserving a time on Calendly, here.



Texts

H. Stephen Gardner, Comparative Economic Systems, manuscript (see links below).
Richard Haass, The World: A Brief Introduction. Penguin, 2020. (Available either in print or as a Kindle e-book)
Additional required readings may be posted on this web site and/or distributed in class.
A collection of optional supplementary readings, arranged by course topics, may be found here.
Recommended References

Allianz, Global Wealth Report
Baylor Library, Electronic Resources
Baylor Library, Online Journals
CIA, World Factbook
clio infra, Global Social History Data
European Bank for Reconstruction and Development, Transition Report

European Union, Global Health
Global Change Data Lab, Our World in Data
Heritage Foundation, Index of Economic Freedom
IMHE, Global Burden of Disease
Johns Hopkins U., Comparative Nonprofit Sector Project
LIS Cross-National Data Center, web site
Nationmaster, site
New Economics Foundation, The Happy Planet Index
OECD, Better Life Index
OECD, Country Information
OECD, Statistics
Oxford Poverty & Human Development Initiative, Multidimensional Poverty Index
Peterson Institute forInternational Economics, web site
Pew Research, Global Attitudes
Transparency International, web site
United Nations, Sustainable Development Goals Report, 2020
United Nations, World Economic Situation and Prospects in mid-2020
UNCTAD, Trade and Development Report
UNDP, Human Development Report
U.S. Department of Labor, International Labor
World Bank, Country Pages
World Bank, Doing Business
World Bank, Global Economic Prospects
World Bank, Statistical Databases
World Bank, World Development Report
World Economic Forum, Global Competitiveness Report 2020

World Health Organization, Country Statistics
World Health Organization, World Health Statistics
World Inequality Database, site

Objectives
The primary objectives of this course are to:
Explore differences between economic institutions, policy, and performance in countries around the world;

Provide information on the methods used to make economic comparisons across countries -- historical and social analysis, statistical methods, theoretical methods, and others; and

Encourage analysis and discussion of major developments in the world economy, including the current policy debates in the United States, difficulties with enlargement and monetary unification of the European Union, the continuing economic and social transitions of the former Communist countries, economic development strategies in poor countries, and programs of economic integration in Europe, the Western Hemisphere, and other regions.

Grading

Semester grades will be based on your performance on three examinations (20% each), a term paper or video (30%), and weekly quizzes over video lectures and reading. Your grade may also be affected by your participation in our Zoom discussions. All of the exams and quizzes will be administered within Canvas. Unless you are told otherwise, each test will include a combination of multiple choice and essay questions.

Look here

for guidelines on writing the term paper and

here for video guidelines

. You will need to present a brief prospectus by February 16, and the finished paper or video will be due no later than April 20. See other important information under

Attendance

, below.

Extra Credit: This semester, in cooperation with the World Affairs Council of Dallas and Fort Worth, I am organizing a series of webinars under the title, Global Business Forum: Economic Issues for the Next Decade. I will also distribute information to you about other online events that relate to this course. You can gain extra credit for attending up to three of these sessions and by writing brief summaries of their content and your reaction to the conclusions. Each of these reaction papers can add up to an additional point to your final course average.

Semester grade averages will be converted into letter grades according to the following scale: A 91-100; A- 89-90; B+ 87-88; B 81-86; B- 79-80; C+ 77-78; C 71-76; C- 69-70; D+ 67-68; D 61-66; D- 59-60; F below 59.

Attendance and Engagement

For this online course, attendance and engagement can take several forms, including participation in our Zoom sessions and responding to assignments and quizzes in Canvas. Under normal circumstances, in keeping with University and Business School Policy, students who miss over 25% of class meetings would automatically fail the course. If you miss an excessive number of classes not related to COVID-19, no concessions will be made and you will receive the grade earned in the course according to guidelines established in the syllabus and the Hankamer School of Business Attendance Policy.

Absences related to COVID-19 will be excused and you may request that due dates for course deliverables be extended if I an notified in a timely manner. If anything happens that interrupts your ability to fully attend and engage in the course - health concerns, technological problems, or otherwise - please discuss the issues with me as quickly as possible by email or during Zoom office hours.

If absences due to confirmed COVID-19 reasons exist for an extended period of time and/or too many assignments or tests are missed that make it impossible to successfully complete the course, I will ask you to schedule a conference to discuss your academic performance in the class.

On the positive side of the ledger, I also have a practice of awarding extra credit to students who have excellent records of class attendance and participation.


Academic Success

I want to be sure that you have every opportunity to be successful at Baylor and in this course. If you have an unexplained pattern of absences or if you seem to be struggling in the course, I will submit an Academic Progress Report to the Success Center and will work with you get the support that you need. Familiarize yourself with the services provided by the Foster Success Center: http://www.baylor.edu/successcenter/.

Academic Integrity

You can find the university honor code here. In line with university policies, cheating, plagiarism, or other acts of academic dishonesty will be reported to the Honor Council and may result in failure of the course or even suspension from the university.

Students Needing Accommodations

Any student who needs academic accommodations related to a documented disability should inform me immediately at the beginning of the semester. You are required to obtain appropriate documentation and information regarding accommodations from the Office of Access and Learning Accommodation (OALA). See the OALA website or or email OALA@baylor.edu immediately if you have not done so already.

Online Classroom Conduct

During our Zoom meetings, please be sure that your webcam is turned on, so we will have more of a sense of community and know you are engaged. If your camera is not turned on, I'll call on you more often. If you cannot turn on your camera for technical reasons (such as a bad web connection), please send an email to me, describing the problem that you are having.
For our Zoom meetings, please make every effort to "arrive" on time and avoid leaving early. If you have difficulty with this, please let me know via email or during Zoom office hours.

When you are not speaking, please mute your microphone to reduce background noise.
Please give your full attention during our Zoom sessions. It will be obvious if you are texting and websurfing.

Our classes will be more interesting if we have broad and lively discussions. Please participate, but avoid monopolizing the discussion. Respect alternative points of view and help me to "draw out" shy class members.

For additional information on classroom conduct, see corresponding section of the Student Handbook .



Tentative Course Schedule

I. Introduction

II. Economic Systems

Feb 18 -- FIRST EXAMINATION, TEXT CHAPTERS 1-5

III. The Western Hemisphere

IV. Western Europe and Middle East

APRIL 1 -- SECOND EXAMINATION, TEXT CHAPTERS 6-13

V. Central Eurasia

VI. Asia and Africa

THIRD EXAMINATION--CHAPTERS 14-21
Wednesday, May 5, 9:00-11:00am