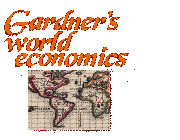 Economics 5343
Seminar on the History of Economic Thought
Steve Gardner
Fall 2008


Course Objectives
A student who successfully completes this course should:

understand the historical continuities and interruptions in the subject matter and methods of economics that have been explored and employed since the days of Moses and Aristotle.
understand the intellectual, cultural, and material forces that have shaped the historical development of economics
be able to locate and interpret original classic texts materials, and appreciate the different methods of exposition that have been used to develop and transmit economic ideas.
gain cultural literacy by understanding the contributions of the major schools of economic thought (Mercantilists, Physiocrats, Classicals, Marxists, Keynesians, Monetarists, etc.), and gain familiarity with their major contributors.
apply theories and concepts from the course to practical issues in economic behavior and policy.
Required Texts
Buchholz, Todd G. New Ideas from Dead Economists: An Introduction to Modern Economic Thought. Revised Edition, Plume, 1999.
Keynes, J.M., The General Theory of Employment, Interest, and Money , Prometheus Books, 1997 [originally published in 1935].
Marshall, Alfred. Principles of Economics. 8th Edition. Prometheus Books, 1997 [1st edition originally published in 1890; 8th edition in 1920].
Mill, John Stuart. Principles of Political Economy . 7th edition, Books II, III, IV and V and Chapters on Socialism. Oxford University Press, 1994 [1st edition originally published in 1848; 7th edition in 1871].
Smith, Adam. An Inquiry into the Nature and Causes of the Wealth of Nations . Two Volumes. Reprint of the Oxford University Press edition by Liberty Press, 1981 [originally published in 1776].
Tucker, Robert C., editor. The Marx-Engels Reader. 2nd. Edition. Norton, 1978 [selections originally published between 1843 and 1894].
Recommended on Reserve in Moody Library
Abbott, Leonard Dalton, ed., Masterworks of Economics , McGraw-Hill, 1973.
Spiegel, Henry William. The Growth of Economic Thought . Duke University Press, 1971.
Sweezy, Paul. The Theory of Capitalist Development. Oxford University Press, 1942.
Related Web Sites
Grading
Semester grades will be based on your performance on three examinations and a term paper, each accounting for one-fourth of the course grade. Unless you are told otherwise, each test will include a combination of multiple choice and essay questions. Look here for guidelines on writing the term paper. See other important information under Attendance, below.
Attendance
In keeping with University regulations, students who miss over 25% of class meetings (in this case, 8 or more sessions) will automatically fail the course. On the other hand, three points will be added to your semester average if you have perfect attendance; two points will be added if you have one absence; one point will be added if you have two absences (for purposes of earning this extra credit, there are no "excused absences"). If you arrive late for class, you will be recorded absent unless you have the roll changed after class. Please avoid late arrivals and early departures -- they are disruptive. Preparation and participation may also be taken into account when course grades are determined.


Tentative Course Schedule
(Please read the required assignments before each class)
Methodology and Philosophy of Science-August 28
Recommended:
Ancient and Medieval-- Sepember 2 and 4

Buchholz, pp. 1-6.
Keynes, pp. 351-353 (VI.23.5).



Exodus 20:8-11, 22:12, and 23:10-11; Leviticus 25:1-55; Numbers 27:1-11; Deuteronomy 15:1-15 and 23:19-20; II Kings 6:25 and 7:1; Ecclesiastes 4:8 and 5:18; Matthew 6:28-34 and 25:14-30; Luke 6:34-35 and 10:38-41; Acts 4:32-37; and II Thessalonians 3:7-12.
Recommended:
Mercantilism--September 9 and 11

Buchholz, 6-9.
Smith, pp. 429-438 (IV.1.1-17), pp. 446-447 (IV.1.31), pp. 452-459 (IV.2.1-16), pp. 463-465 (IV.2.23-31), pp. 471-472 (IV.2.43-45), pp. 660-662 (IV.8.49-54).
Keynes, pp. 333-351 (VI.23.1-4)
Recommended:
Quesnay and the Physiocrats--September 16 and 18

Buchholz, pp. 16-18.
Smith, pp. 663-688 (IV.9.1-52).
Recommended:
Adam Smith--September 23, 25, and 30


Class Notes 9/25 TERM PAPER PROSPECTUS DUE
Buchholz, pp. 10-16, 19-41.
Smith (skip the editor's general introduction), pp. 10-36 (I.1.1 - I.3.8), pp. 44-53 (I.4.11 - I.5.15), pp. 65-89 (I.6.1 - I.8.24), pp. 105-106 (I.9.1-6), pp. 113-115 (I.9.18-24), pp. 152-153 (I.10.44-47), pp. 160-162 (I.11.1-9), pp. 337-342 (II.3.18-31).
Recommended:
FIRST EXAMINATION--OCTOBER 2
Thomas Malthus--October 7


Recommended:
David Ricardo--October 9, 14, and 16

Recommended:
John Stuart Mill--October 21, 23, 28

Buchholz, Chapter 5.
Bentham, Jeremy. Principles of Morals and Legislation, 1823 (Chapters 1 and 4).

Mill , Book II, Chapter 1 (pp. 5-24); Book IV, Chapters 6 and 7 (pp. 124-158); Book V, Chapters 1, 2, and 11 (pp. 159-189 and 324-367); and Chapters on Socialism, pp. 379-386, 413-423, and 431-436.
Recommended:
SECOND EXAMINATION--OCTOBER 30
Karl Marx--November 4, 6, and 11


Buchholz, Chapter 6.
Tucker, pp. 203-217, 336-340, 355-358, 436-438, 485, 490-491, 522-524, 529-531, 538, 698-701, 716-717.
Recommended:
Alfred Marshall and Marginalism--November 13, 18, and 20


Class Notes 11/13 and 11/18 TERM PAPER DUE (18th)
Marshall , Prefaces; Book I, Chapters 1 and 4; Book II, Chapter 3, §1; Book III, Chapters 3, 4, and 6; and Book V, Chapters 3, 5, 12, and 13.
Buchholz, Chapter 7.
Recommended:
Spiegel, Chapters 22 and 25.
John Maynard Keynes--November 25 and December 2 (11/27 is Thanksgiving Holiday)

Buchholz, Chapter 9.
Keynes (full text), Selections, pp. v-viii, 3-22, 27-28, 165-172, 245-54, 372-84.
Recommended:
Friedman and Monetarism-- December 4

Buchholz, Chapter 10.
Friedman, Milton. "A Theoretical Framework for Monetary Analysis ," The Journal of Political Economy, Vol. 78, No. 2. (Mar. - Apr., 1970), pp. 193-238.
Friedman, Milton. "Nobel Lecture: Inflation and Unemployment ," The Journal of Political Economy, Vol. 85, No. 3. (Jun., 1977), pp. 451-472.

THIRD EXAMINATION--DECEMBER 15, 2:00-5:00 PM

home

résumé

courses

resources
hankamer school of business
baylor university

baylor economics