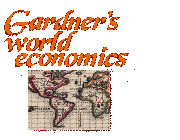 &nbsp&nbsp &nbsp Contents
&nbsp 1. Systems
&nbsp 2. Statistics
&nbsp 3. Capitalism
&nbsp 4. Socialism
&nbsp 5. Developing World
&nbsp 6. The Americas
&nbsp 7. United States
&nbsp 8. Latin America
&nbsp 9. Europe
10. United Kingdom
11. Germany
12. France
13. Sweden
14. Eurasia Overview
15. Soviet Planning
16. Eurasia: Reform
17. Eurasia: Transition
18. Asia and Pacific
19. Japan
20. China
21. Africa
22. Economic Future


&nbsp


The Economic Future: Cooperation or Confrontation?
Web Resources Related to Chapter 22 of Comparative Economic Systems, 2nd Edition, by H. Stephen Gardner

Carnegie Endowment for International Peace

Future Focused Links and Organizations

Global Business Network

Global Problems and the Culture of Capitalism

Global Trends 2005 Project (CSIS)

Global Trends 2015: A Dialogue About the Future With Nongovernment Experts

International Institute for Sustainable Development

Resources for the Future

Rorty, Richard. "Moral Universalism and Economic Triage.

home

résumé

courses

resources
hankamer school of business
baylor university

baylor economics