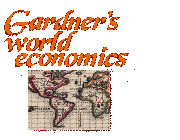 &nbsp&nbsp &nbsp Contents
&nbsp 1. Systems
&nbsp 2. Statistics
&nbsp 3. Capitalism
&nbsp 4. Socialism
&nbsp 5. Developing World
&nbsp 6. The Americas
&nbsp 7. United States
&nbsp 8. Latin America
&nbsp 9. Europe
10. United Kingdom
11. Germany
12. France
13. Sweden
14. Eurasia Overview
15. Soviet Planning
16. Eurasia: Reform
17. Eurasia: Transition
18. Asia and Pacific
19. Japan
20. China
21. Africa
22. Economic Future


&nbsp


The Political Economy of Soviet-Style Central Planning
Web Resources Related to Chapter 15 of Comparative Economic Systems, 2nd Edition, by H. Stephen Gardner

"Building the Collective," Soviet Graphic Art

Decree on Foreign Trade, 22 April 1918

CIA Assessments of the Soviet Union

Feshbach, Murray. Introduction to Ecological Disaster: Cleaning Up the Hidden Legacy of the Soviet Regime

Historical Statistical Data (Hokkaido)

Hoover Institution Library

Lenin Mausoleum

Lenin's Last Struggle

McCain, Roger A. "Central Planning."

home

résumé

courses

resources
hankamer school of business
baylor university

baylor economics