Adam Smith Biography
1723 -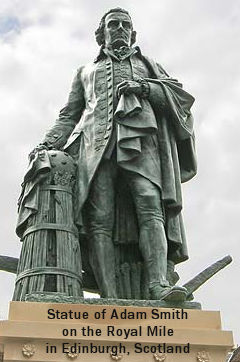 Born in Kirkaldy, Scotland
1737-1747 - Education in Glasgow and Oxford
1748 - Started teaching logic in Glasgow
1759 - Published Theory of Moral Sentiments
1764-1766 - Tutor for young duke, touring in France
1766-1776 - Wrote Wealth of Nations
1778 -
Appointed Commissioner of Customs in Edinburgh
1790 - Died in Edinburgh, buried in Canongate Kirkyard on the Royal Mile


The Theory of Moral Sentiments
by Adam Smith 1759
Part III
Of the Foundation of our Judgments concerning
our own Sentiments and Conduct, and of the Sense of Duty
III.I.46
Let us suppose that the great empire of China, with all its myriads of inhabitants, was suddenly swallowed up by an earthquake, and let us consider how a man of humanity in Europe, who had no sort of connexion with that part of the world, would be affected upon receiving intelligence of this dreadful calamity. He would, I imagine, first of all, express very strongly his sorrow for the misfortune of that unhappy people, he would make many melancholy reflections upon the precariousness of human life, and the vanity of all the labours of man, which could thus be annihilated in a moment. He would too, perhaps, if he was a man of speculation, enter into many reasonings concerning the effects which this disaster might produce upon the commerce of Europe, and the trade and business of the world in general. And when all this fine philosophy was over, when all these humane sentiments had been once fairly expressed, he would pursue his business or his pleasure, take his repose or his diversion, with the same ease and tranquillity, as if no such accident had happened. The most frivolous disaster which could befall himself would occasion a more real disturbance. If he was to lose his little finger to-morrow, he would not sleep to-night; but, provided he never saw them, he will snore with the most profound security over the ruin of a hundred millions of his brethren, and the destruction of that immense multitude seems plainly an object less interesting to him, than this paltry misfortune of his own. To prevent, therefore, this paltry misfortune to himself, would a man of humanity be willing to sacrifice the lives of a hundred millions of his brethren, provided he had never seen them? Human nature startles with horror at the thought, and the world, in its greatest depravity and corruption, never produced such a villain as could be capable of entertaining it. But what makes this difference? When our passive feelings are almost always so sordid and so selfish, how comes it that our active principles should often be so generous and so noble? When we are always so much more deeply affected by whatever concerns ourselves, than by whatever concerns other men; what is it which prompts the generous, upon all occasions, and the mean upon many, to sacrifice their own interests to the greater interests of others? It is not the soft power of humanity, it is not that feeble spark of benevolence which Nature has lighted up in the human heart, that is thus capable of counteracting the strongest impulses of self-love. It is a stronger power, a more forcible motive, which exerts itself upon such occasions. It is reason, principle, conscience, the inhabitant of the breast, the man within, the great judge and arbiter of our conduct. It is he who, whenever we are about to act so as to affect the happiness of others, calls to us, with a voice capable of astonishing the most presumptuous of our passions, that we are but one of the multitude, in no respect better than any other in it; and that when we prefer ourselves so shamefully and so blindly to others, we become the proper objects of resentment, abhorrence, and execration. It is from him only that we learn the real littleness of ourselves, and of whatever relates to ourselves, and the natural misrepresentations of self-love can be corrected only by the eye of this impartial spectator. It is he who shows us the propriety of generosity and the deformity of injustice; the propriety of resigning the greatest interests of our own, for the yet greater interests of others, and the deformity of doing the smallest injury to another, in order to obtain the greatest benefit to ourselves. It is not the love of our neighbour, it is not the love of mankind, which upon many occasions prompts us to the practice of those divine virtues. It is a stronger love, a more powerful affection, which generally takes place upon such occasions; the love of what is honourable and noble, of the grandeur, and dignity, and superiority of our own characters.

III.I.47
When the happiness or misery of others depends in any respect upon our conduct, we dare not, as self-love might suggest to us, prefer the interest of one to that of many. The man within immediately calls to us, that we value ourselves too much and other people too little, and that, by doing so, we render ourselves the proper object of the contempt and indignation of our brethren. Neither is this sentiment confined to men of extraordinary magnanimity and virtue. It is deeply impressed upon every tolerably good soldier, who feels that he would become the scorn of his companions, if he could be supposed capable of shrinking from danger, or of hesitating, either to expose or to throw away his life, when the good of the service required it.


NOTE: Smith's "man within" who follows a rule of "reason" is similar, in some respects to the Categorical Imperative in the writing of his German contemporary, Immanuel Kant (1724-1804). Kant argued that there are unconditional moral laws that are so fundamental that they would be followed by any rational person, regardless of any personal motive or desire. It also pointed forward to the ethical system suggested by the American political philosopher, John Rawls (1921-2002), with hypothetical judgments made in the "initial position" behind a "veil of ignorance."

Book 1, Chapter 1
An Inquiry into the Nature and
Causes of the Wealth of Nations
by Adam Smith 1776
INTRODUCTION AND PLAN OF THE WORK
[I, intro, 1, p. 10]
The annual labour of every nation is the fund which originally supplies it with all the necessaries and conveniences of life which it annually consumes, and which consist always either in the immediate produce of that labour, or in what is purchased with that produce from other nations.

According therefore as this produce, or what is purchased with it, bears a greater or smaller proportion to the number of those who are to consume it, the nation will be better or worse supplied with all the necessaries and conveniences for which it has occasion.

But this proportion must in every nation be regulated by two different circumstances; first, by the skill, dexterity, and judgment with which its labour is generally applied; and, secondly, by the proportion between the number of those who are employed in useful labour, and that of those who are not so employed. Whatever be the soil, climate, or extent of territory of any particular nation, the abundance or scantiness of its annual supply must, in that particular situation, depend upon those two circumstances.
Book 1, Chapter 1
OF THE DIVISION OF LABOUR
[I, i, 1, p. 13]
THE greatest improvement in the productive powers of labour, and the greater part of the skill, dexterity, and judgment with which it is anywhere directed, or applied, seem to have been the effects of the division of labour. . .

[I, i, 3, p. 14]
To take an example, therefore, from a very trifling manufacture; but one in which the division of labour has been very often taken notice of, the trade of the pin-maker; a workman not educated to this business ... could scarce, perhaps, with his utmost industry, make one pin in a day, and certainly could not make twenty. But in the way in which this business is now carried on, ... it is divided into a number of branches, of which the greater part are likewise peculiar trades. One man draws out the wire, another straights it, a third cuts it, a fourth points it, a fifth grinds it at the top for receiving the head; … the important business of making a pin is, in this manner, divided into about eighteen distinct operations… I have seen a small manufactory of this kind where ten men only were employed, and where some of them consequently performed two or three distinct operations. But though they were very poor, and therefore but indifferently accommodated with the necessary machinery, they could, when they exerted themselves, make among them about twelve pounds of pins in a day. There are in a pound upwards of four thousand pins of a middling size… Each person, therefore, making a tenth part of forty-eight thousand pins, might be considered as making four thousand eight hundred pins in a day. But if they had all wrought separately and independently, and without any of them having been educated to this peculiar business, they certainly could not each of them have made twenty, perhaps not one pin in a day…

[I, i, 5, p. 17]
This great increase of the quantity of work which, in consequence of the division of labour, the same number of people are capable of performing, is owing to three different circumstances; first, to the increase of dexterity in every particular workman; secondly, to the saving of the time which is commonly lost in passing from one species of work to another; and lastly, to the invention of a great number of machines which facilitate and abridge labour, and enable one man to do the work of many.

[I, i, 8, p. 19]
Thirdly, and lastly, everybody must be sensible how much labour is facilitated and abridged by the application of proper machinery. It is unnecessary to give any example. I shall only observe, therefore, that the invention of all those machines by which labour is so much facilitated and abridged seems to have been originally owing to the division of labour. Men are much more likely to discover easier and readier methods of attaining any object when the whole attention of their minds is directed towards that single object than when it is dissipated among a great variety of things. . .
Book 1, Chapter 2
OF THE PRINCIPLE WHICH GIVES OCCASION
TO THE DIVISION OF LABOUR
[I, ii, 1, p. 25]
THIS division of labour, from which so many advantages are derived, is not originally the effect of any human wisdom, which foresees and intends that general opulence to which it gives occasion. It is the necessary, though very slow and gradual consequence of a certain propensity in human nature which has in view no such extensive utility; the propensity to truck, barter, and exchange one thing for another.

Whether this propensity be one of those original principles in human nature of which no further account can be given; or whether, as seems more probable, it be the necessary consequence of the faculties of reason and speech, it belongs not to our present subject to inquire. It is common to all men, and to be found in no other race of animals, which seem to know neither this nor any other species of contracts. Two greyhounds, in running down the same hare, have sometimes the appearance of acting in some sort of concert. Each turns her towards his companion, or endeavours to intercept her when his companion turns her towards himself. This, however, is not the effect of any contract, but of the accidental concurrence of their passions in the same object at that particular time. Nobody ever saw a dog make a fair and deliberate exchange of one bone for another with another dog… In civilised society [a man] stands at all times in need of the cooperation and assistance of great multitudes, while his whole life is scarce sufficient to gain the friendship of a few persons. In almost every other race of animals each individual, when it is grown up to maturity, is entirely independent, and in its natural state has occasion for the assistance of no other living creature. But man has almost constant occasion for the help of his brethren, and it is in vain for him to expect it from their benevolence only. He will be more likely to prevail if he can interest their self-love in his favour, and show them that it is for their own advantage to do for him what he requires of them… It is not from the benevolence of the butcher, the brewer, or the baker that we expect our dinner, but from their regard to their own interest. We address ourselves, not to their humanity but to their self-love, and never talk to them of our own necessities but of their advantages. Nobody but a beggar chooses to depend chiefly upon the benevolence of his fellow-citizens. . .

Book 1, Chapter 3
THAT THE DIVISION OF LABOUR IS
LIMITED BY THE EXTENT OF THE MARKET
[I, iii, 1, p. 31]
AS it is the power of exchanging that gives occasion to the division of labour, so the extent of this division must always be limited by the extent of that power, or, in other words, by the extent of the market. When the market is very small, no person can have any encouragement to dedicate himself entirely to one employment, . . .

[I, iii, 3, p. 32]
As by means of water-carriage a more extensive market is opened to every sort of industry than what land-carriage alone can afford it, so it is upon the sea-coast, and along the banks of navigable rivers, that industry of every kind naturally begins to subdivide and improve itself, and it is frequently not till a long time after that those improvements extend themselves to the inland parts of the country. . .
[I, iii, 4, p. 34]
Since such, therefore, are the advantages of water-carriage, it is natural that the first improvements of art and industry should be made where this conveniency opens the whole world for a market to the produce of every sort of labour, and that they should always be much later in extending themselves into the inland parts of the country. . .
[I, iii, 5, p. 34]
The nations that, according to the best authenticated history, appear to have been first civilised, were those that dwelt round the coast of the Mediterranean Sea. That sea, by far the greatest inlet that is known in the world, having no tides, nor consequently any waves except such as are caused by the wind only, was, by the smoothness of its surface, as well as by the multitude of its islands, and the proximity of its neighbouring shores, extremely favourable to the infant navigation of the world . . .
Book 1, Chapter 4
OF THE ORIGIN AND USE OF MONEY
[I, iv, 11, p. 44]
It is in this manner that money has become in all civilised nations the universal instrument of commerce, by the intervention of which goods of all kinds are bought and sold, or exchanged for one another.

What are the rules which men naturally observe in exchanging them either for money or for one another, I shall now proceed to examine. These rules determine what may be called the relative or exchangeable value of goods.

The word value, it is to be observed, has two different meanings, and sometimes expresses the utility of some particular object, and sometimes the power of purchasing other goods which the possession of that object conveys. The one may be called "value in use"; the other, "value in exchange." The things which have the greatest value in use have frequently little or no value in exchange; and, on the contrary, those which have the greatest value in exchange have frequently little or no value in use. Nothing is more useful than water: but it will purchase scarce anything; scarce anything can be had in exchange for it. A diamond, on the contrary, has scarce any value in use; but a very great quantity of other goods may frequently be had in exchange for it.

In order to investigate the principles which regulate the exchangeable value of commodities, I shall endeavour to show:

First, what is the real measure of this exchangeable value; or, wherein consists the real price of all commodities.

Secondly, what are the different parts of which this real price is composed or made up.

And, lastly, what are the different circumstances which sometimes raise some or all of these different parts of price above, and sometimes sink them below their natural or ordinary rate; or, what are the causes which sometimes hinder the market price, that is, the actual price of commodities, from coinciding exactly with what may be called their natural price.



Book 1, Chapter 5
OF THE REAL AND NOMINAL PRICE OF
COMMODITIES, OR THEIR PRICE IN LABOUR,
AND THEIR PRICE IN MONEY
[I, v, 1, p. 47]
EVERY man is rich or poor according to the degree in which he can afford to enjoy the necessaries, conveniences, and amusements of human life. But after the division of labour has once thoroughly taken place, it is but a very small part of these with which a man's own labour can supply him. The far greater part of them he must derive from the labour of other people, and he must be rich or poor according to the quantity of that labour which he can command, or which he can afford to purchase. The value of any commodity, therefore, to the person who possesses it, and who means not to use or consume it himself, but to exchange it for other commodities, is equal to the quantity of labour which it enables him to purchase or command. Labour, therefore, is the real measure of the exchangeable value of all commodities.

The real price of everything, what everything really costs to the man who wants to acquire it, is the toil and trouble of acquiring it. What everything is really worth to the man who has acquired it, and who wants to dispose of it or exchange it for something else, is the toil and trouble which it can save to himself, and which it can impose upon other people. What is bought with money or with goods is purchased by labour as much as what we acquire by the toil of our own body. . .

[I, v, 4, p. 48]
But though labour be the real measure of the exchangeable value of all commodities, it is not that by which their value is commonly estimated. . .
[I, v, 6, p. 49]
But when barter ceases, and money has become the common instrument of commerce, every particular commodity is more frequently exchanged for money than for any other commodity. . . Hence it comes to pass that the exchangeable value of every commodity is more frequently estimated by the quantity of money, than by the quantity either of labour or of any other commodity which can be had in exchange for it.

Gold and silver, however, like every other commodity, vary in their value, are sometimes cheaper and sometimes dearer, sometimes of easier and sometimes of more difficult purchase. . . Equal quantities of labour, at all times and places, may be said to be of equal value to the labourer. In his ordinary state of health, strength and spirits; in the ordinary degree of his skill and dexterity, he must always lay down the same portion of his ease, his liberty, and his happiness. . . Labour alone, therefore, never varying in its own value, is alone the ultimate and real standard by which the value of all commodities can at all times and places be estimated and compared. It is their real price; money is their nominal price only.

[I, v, 15, p. 53]
Equal quantities of labour will at distant times be purchased more nearly with equal quantities of corn, the subsistence of the labourer, than with equal quantities of gold and silver, or perhaps of any other commodity. Equal quantities of corn, therefore, will, at distant times, be more nearly of the same real value, or enable the possessor to purchase or command more nearly the same quantity of the labour of other people.
[I, v, 17, p. 54]
Labour, therefore, it appears evidently, is the only universal, as well as the only accurate measure of value, or the only standard by which we can compare the values of different commodities at all times, and at all places. We cannot estimate, it is allowed, the real value of different commodities from century to century by the quantities of silver which were given for them. We cannot estimate it from year to year by the quantities of corn. By the quantities of labour we can, with the greatest accuracy, estimate it both from century to century and from year to year. From century to century, corn is a better measure than silver, because, from century to century, equal quantities of corn will command the same quantity of labour more nearly than equal quantities of silver. From year to year, on the contrary, silver is a better measure than corn, because equal quantities of it will more nearly command the same quantity of labour.
Working Time Required for a Worker in the Basic Metals
Industry to Purchase Various Consumer Items, 1999
(in hours and minutes; so 22:43 represents 22 hours and 43 minutes)
| | | | | | | | | |
| --- | --- | --- | --- | --- | --- | --- | --- | --- |
| | Germany | Ghana | Japan | Mexico | Philippines | Russia | Sweden | U.S. |
| Food (1 kilo) | | | | | | | | |
| Bread | 0:07 | 0:58 | 0:11 | 0:03 | 0:36 | 0:18 | 0:07 | 0:07 |
| Beef | 0:32 | 7:16 | 1:40 | 3:52 | 6:15 | 1:17 | 0:58 | 0:34 |
| Rice | 0:12 | 2:19 | 0:10 | 0:34 | 0:48 | 0:32 | 0:06 | 0:04 |
| Oranges | 0:05 | 1:10 | 0:11 | 0:12 | 1:52 | 0:41 | 0:05 | 0:05 |
| Clothing | | | | | | | | |
| Men's suit | 10:55 | 232:11 | 22:43 | 80:20 | 34:10 | 34:10 | 16:06 | 11:17 |
| Men's shoes | 4:47 | 77:24 | 5:41 | 20:06 | 17:50 | 13:31 | 4:50 | 3:23 |
| Wom: dress | 9:30 | 135:26 | 16:23 | 24:08 | 12:38 | 12:42 | 8:03 | 4:31 |
| Rent | | | | | | | | |
| 3 rooms | 18:04 | 338:35 | 46:15 | 160:50 | 200:30 | 8:24 | 36:14 | 19:45 |
| Durables | | | | | | | | |
| Refrigerator | 18:43 | 1,451:04 | 35:39 | n.a. | 490:06 | 187:25 | 40:15 | 14:06 |
| Television | 36:48 | 967:23 | 14:13 | 184:58 | 638:37 | 151:40 | 28:11 | 11:17 |
| Midsize car | 916:54 | 40,630:12 | 855:48 | 9,649:52 | 14,851:20 | 4,884:05 | 1,207:31 | 1,015:09 |
Source: International Metalworkers' Federation, "International Comparison of Average Net Hourly Earnings in 1999'"
http://www:imfmetal.org/imf/main/pub_files/POWER2000_English.pdf
National Price Levels Compared to International Prices, 1996
(OECD Prices = 100)
| | | | | | | | | |
| --- | --- | --- | --- | --- | --- | --- | --- | --- |
| | France | Germany | Italy | Japan | Norway | Sweden | UK | US |
| Food & beverages | 114 | 109 | 106 | 187 | 166 | 139 | 105 | 80 |
| Clothing & footwear | 145 | 134 | 113 | 150 | 132 | 137 | 97 | 73 |
| Rent & Utilities | 129 | 141 | 70 | 174 | 106 | 135 | 80 | 90 |
| Household equipment | 116 | 116 | 105 | 184 | 120 | 128 | 89 | 82 |
| Health care | 93 | 111 | 79 | 87 | 121 | 136 | 73 | 115 |
| Transport & communication | 126 | 124 | 104 | 117 | 158 | 143 | 113 | 86 |
| Education and recreation | 126 | 112 | 109 | 135 | 142 | 142 | 92 | 88 |
Michelle A. Vachris and James Thomas, "International Price Comparisons Based on Purchasing Power Parity," Monthly Labor Review, October 1999, p. 10
http://stats.bls.gov/opub/mlr/1999/10/art1full.pdf
National Price Levels Compared to U.S. Prices, 1975
(U.S. Prices = 100)
Low Income

Lower

Middle

Upper

Middle

High

Income

Food & beverages

51.3

62.9

71.7

109.9

Clothing & footwear

55.7

59.0

79.8

126.0

Rent & Utilities

47.8

56.4

47.6

103.1

Household equipment

45.5

60.8

84.3

99.2

Health care

27.5

29.7

35.9

62.0

Transport & communication

68.8

74.6

101.3

137.2

Education and recreation

19.1

29.1

46.9

102.7
Low Income = e.g., Malawi, India, Thailand
Lower Middle = e.g., Korea, Colombia, Brazil
Upper Middle = e.g., Romania, Mexico, Iran
High Income = e.g., UK, Japan, Germany
Irving Kravis, Alan Heston, and Robert Summers, World Product and
Income, Johns Hopkins University Press, 1982